Tips to Help Businesses Recover After Flood Damage
1/18/2023 (Permalink)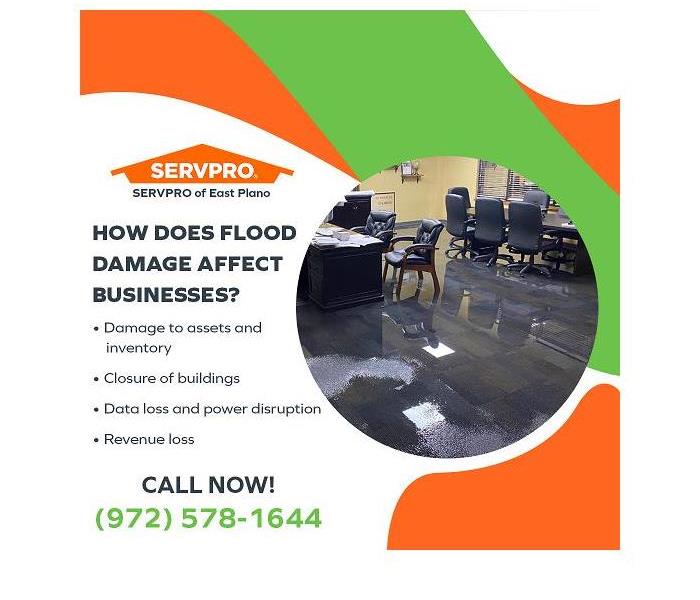 Blog Summary: Tips to help businesses that have experienced flood damage are listed in this article by SERVPRO® of East Plano.
Flooding is a disaster that is devastating emotionally and financially for home and business owners. Flood damage cannot always be prevented, especially due to natural causes. Taking steps to minimize the immediate damage and planning for flood damage restoration to return to a preloss condition is the focus after flooding.
Flood water is considered contaminated and is a Category 3 water damage. It is safer when professionals handle the cleanup after any flood damage. East Plano and surrounding areas can experience stormy weather, like flash floods, hail, or tornadoes, that puts the community at risk of flood damage. SERVPRO of East Plano has highly trained storm damage specialists that offer flood restoration services in Bethany Lakes Park, TX, and surrounding areas. This locally owned and operated business is always prepared to respond to flood or storm damage emergencies. In this article, SERVPRO of East Plano provides some tips to help businesses facing flood damage.
How does flood damage affect businesses?
Flooding causes disruptions to businesses by different means, including the following:
Damage to assets and inventory: There can be damages to machines, merchandise, vehicles, or devices that take time to replace or repair.
Closure of buildings: when flood water enters a building, the cleanup can take time, during which the building may be closed for safety.
Data loss and power disruption: Flood water can damage electrical systems and electronic devices like computers. It can be impossible to repair electronics sometimes, which is why data backups are crucial for businesses.
Revenue loss: the loss of inventory and equipment and the time and money needed for flood damage restoration services can cost a considerable amount. Also, during the flood damage restoration process, the business may be closed or need alternative arrangements which impact the revenue.
What to do to recover from flood damage
Flood damage can have a prolonged impact on a business, depending on the extent of the damage. Hence, it benefits businesses to plan for a flood and the flood cleanup after that, primarily if located in an area at risk of floods. The following are some measures that will help in the aftermath of flood damage.
Have an emergency response plan for disasters, including flooding
The emergency response plan should include all the data and documents like contact information for employees and emergency services, inventory lists, etc.
Do regular backups
Ensure that a data backup is done regularly.
Research on available resources
Check the assistance options available for businesses in the event of a flood. FEMA, United Way, and the US Chamber of Commerce offer assistance and resources to businesses for flood recovery. Local and state governments may also have programs to help businesses affected by flood damage.
Get professional flood damage restoration services
Businesses with flood insurance policies must keep them up to date. Knowing local flood restoration services with a good reputation will help in the event of a disaster.
Protect assets from floods
Businesses can take steps to protect themselves from flood damage, like relocating to an area less prone to floods, floodproofing the building, building floodwalls, and elevating the building.
Being prepared may mean the battle is half-won. But, the battle may still have to be fought. Despite the best precautions, businesses can be affected by flood damage. Flood damage restoration done by professionals helps to resume business as usual as soon as possible. SERVPRO of East Plano offers residential and commercial flood damage restoration services in Bethany Lakes Park, TX. As a leader in the storm and water damage restoration industry, the company has a team of experts with the training and expertise to handle flood damage. The flood damage restoration process uses scientific drying techniques and monitors and documents the entire process. Business owners and residents who need flood damage restoration services in Bethany Lakes Park, TX, can contact SERVPRO of East at (972) 578-1644. The company offers 24-hour emergency services and is quick to respond to disasters of any size.