What types of water damage are covered by homeowners insurance?
1/18/2023 (Permalink)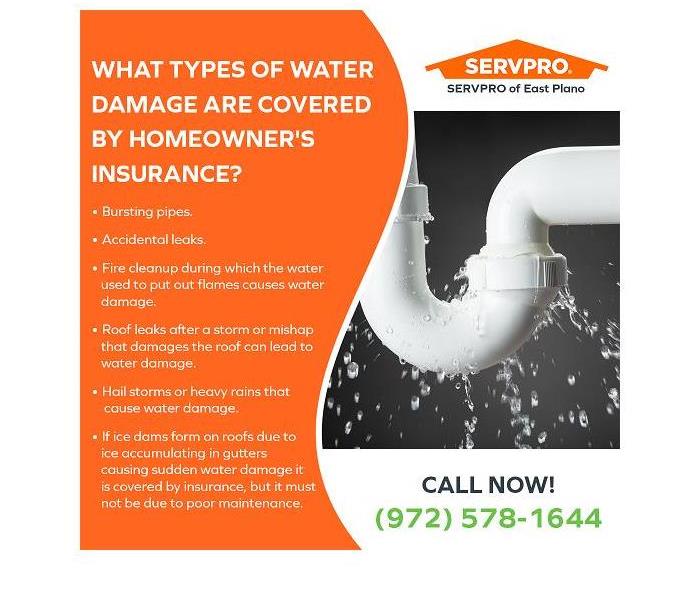 Blog Summary: The types of water damage that homeowners insurance has coverage for are listed in this article by SERVPRO® of East Plano.
Various losses in homes and businesses can be caused by water intrusion leading to destructive processes like rotting of wood, rusting of metal, swelling of composite woods, damage to electrical devices, mold growth, etc. All these effects of water intrusion are described as water damage. Water damage is one of the leading causes of property loss in the US. It is one of the most frequent reasons for home insurance claims.
Water damage can be devastating and lead to considerable property damage, especially if neglected. Water damage restoration must be meticulously done without delay to ensure that the water damage is limited. A professional water damage restoration company will ensure that water damage is cleaned up and that the risk for secondary water damage is reduced.
SERVPRO of East Plano offers fire and water cleanup and restoration services. Though the Plano area is a great place to live, the climate can put businesses and homes at risk for water damage. Whatever the cause, residents and business owners who need water damage restoration in Ridgewood, TX, can get prompt and expert service from Ridgewood, TX. This company is a trusted leader in the restoration industry that is owned and operated locally, thus ensuring clients get the best service from experts at any time without delays.
SERVPRO of East Plano works with insurance companies to help clients who need water damage restoration in Ridgewood, TX manage the process and paperwork associated with an insurance claim. In this article, the company explains when homeowner's insurance covers water damage.
What types of water damage are covered by homeowner's insurance?
Usually, water damage that is sudden and accidental gets coverage from homeowners' insurance policies. The water damage that homeowner's insurance covers usually includes:
Bursting pipes: When a pipe freezes and bursts in winter, it is covered by insurance. But, there must be no neglect from the homeowner in adequately keeping the home heated for the claim to be granted.
Accidental leaks: when there is a leak from the plumbing or faulty appliances.
Fire cleanup, during which the water used to put out flames (from sprinklers or hoses) causes water damage.
Roof leaks after a storm or mishap that damages the roof can lead to water damage. Steps must be taken to fix damaged roofs within a reasonable timeframe. Delays in such measures to limit water damage will mean that further damage is not covered by insurance.
Hail storms or heavy rains that cause water damage.
If ice dams form on roofs due to ice accumulating in gutters causing sudden water damage, it is covered by insurance, but it must not be due to poor maintenance by the property owner.
When is water damage not covered by homeowner's insurance?
Flood damage: Home insurance policies will not cover water damage caused by floods. Flood damage can be due to hurricanes, storm surges, tsunamis, overflowing water bodies like rivers, etc. For flood damage coverage, separate flood insurance must be purchased.
Negligence and inadequate maintenance of home or business owners that cause water damage can lead to the denial of claims for water damage.
Intentionally caused water damage, like when a home is set on fire or not repairing plumbing leaks for a long time.
A standard homeowner's insurance policy will not cover sewage backup and sump pump failure causing water damage, but a rider can be purchased for sewer backup or sump failure.
Water damage caused by leaking from structures like swimming pools or seeping or leaking through cracks in the foundation.
Faulty appliances that leak, causing water damage, will need to be repaired or replaced, and a homeowner's insurance policy does not pay for these costs.
Preventing water damage
It is always better for homeowners and business owners to protect their property from water damage. These measures include routine maintenance of appliances, roofs, plumbing, and building structures, and ensuring swift repair when any problem is noticed.
Regular maintenance and prompt repairs help homeowner's insurance claims for water damage are not denied on the grounds of negligence. Such measures as draining water heaters to prevent sediment buildup, inspecting hoses connected to appliances for leaks, periodic roof inspections for leaks, ensuring adequate heating in winter to reduce the risk of bursting pipes, etc., must be carried out diligently.

A reliable professional water damage restoration service can make water damage easier to manage. With highly trained technicians who undergo initial and ongoing training at SERVPRO's Corporate Training Facility and have IICRC certifications, SERVPRO of East Plano ensures expert service. Their latest equipment ensures that water damage restoration is quick and efficient and the highest industry standards are followed. For reliable water damage restoration in Ridgewood, TX, property owners can call (972) 578-1644 and get help from SERVPRO of East Plano.